Realme enthusiasts have been eagerly awaiting the announcement of the much-anticipated Realme GT5 Pro, and now, the Chief Marketing Officer has shared some exciting details about this upcoming flagship device. Just two weeks after confirming that the phone will be powered by the Snapdragon 8 Gen 3, he's revealed that the Realme GT5 Pro's screen will boast a remarkable 3,000 nits of brightness.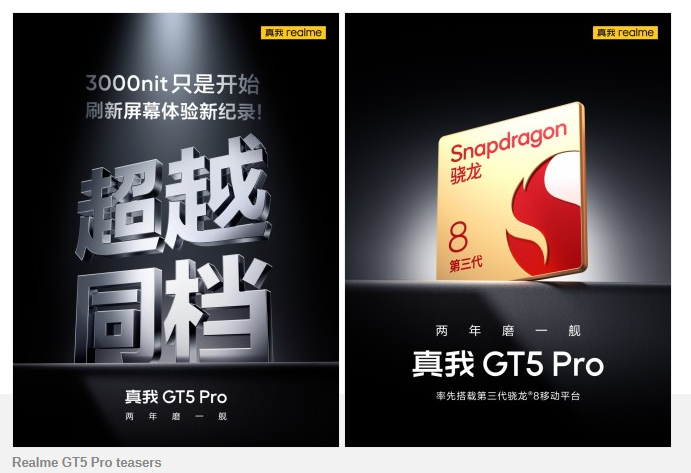 This eye-popping level of brightness is touted as an industry first, and it promises to deliver an "all-around epic" upgrade, ensuring the Realme GT5 Pro offers the best screen experience on the market. The panel behind this extraordinary display is likely to be manufactured by BOE, who recently unveiled a cutting-edge 3,000-nit panel in collaboration with Oppo and OnePlus for their upcoming flagship devices. As Realme is part of the same group, it's highly probable that the smartphone will feature this groundbreaking display technology.
In addition to its extraordinary brightness, the screen will also offer a superb 1220p resolution, ensuring crisp and vibrant visuals. The design of the display is expected to feature incredibly thin bezels and slightly curved sides, providing an immersive and bezel-less viewing experience.
Realme fans will be pleased to know that the GT5 Pro has already received certification from TENAA, indicating that the phone is ready for sale. With these exciting developments, we can anticipate a launch event from Realme in the near future, bringing us closer to experiencing the revolutionary display technology and other impressive features that the GT5 Pro is set to offer. Stay tuned for more updates as we eagerly await the official unveiling of this much-anticipated flagship device.
Source (in Chinese)