In a sneak peek at Samsung's upcoming release, the Samsung Galaxy S24 Ultra, powered by the Snapdragon 8 Gen 3 chipset, has surfaced on Geekbench. This highly anticipated smartphone is expected to make its debut in January, with the US variant taking center stage.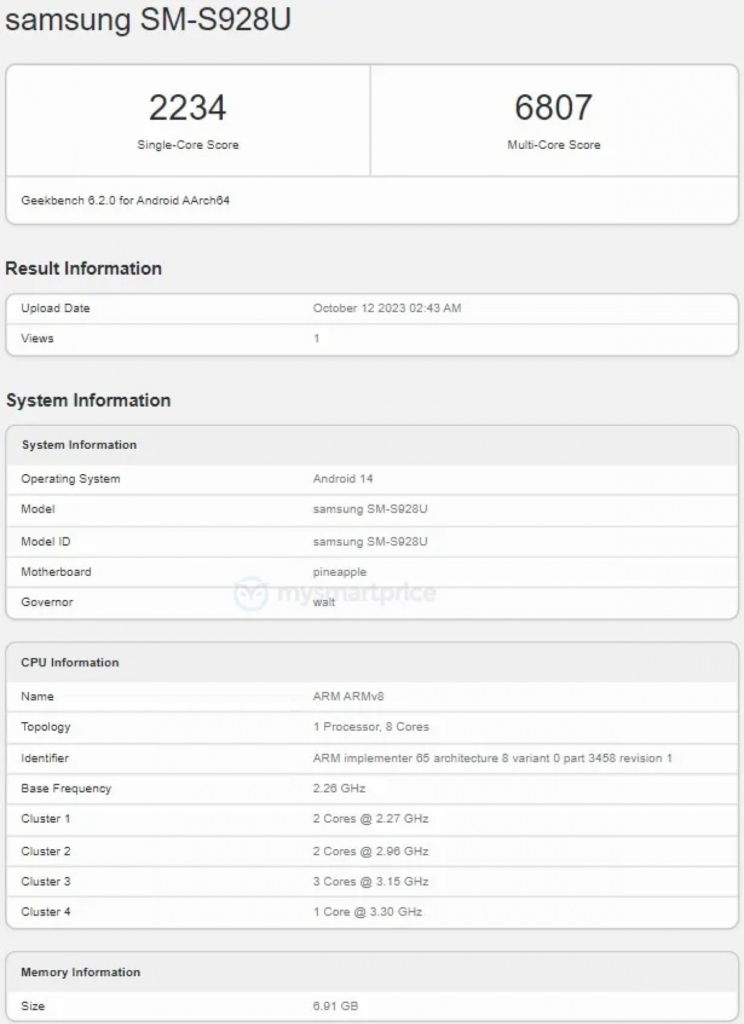 The SM-S928U, equipped with the cutting-edge Snapdragon 8 Gen 3, codenamed "pineapple," showcases an intriguing 1+3+2+2 CPU configuration. While the primary core operates at 3.30 GHz, which is marginally lower than the previous Snapdragon flagship, the remaining clusters exhibit some remarkable improvements. The second cluster boasts three cores ticking at 3.15 GHz, the third cluster comprises two units running at 2.96 GHz, and the last two cores are clocked at 2.27 GHz.
This particular tested model featured a modest 8 GB of RAM, and it will run on Android 14, likely complemented by One UI 6.1.
The benchmark results are nothing short of impressive, with a single-core score of 2,234 and a multi-core score of 6,807. These scores represent a significant boost over the Galaxy S23 Ultra with Snapdragon 8 Gen 2, with an impressive 15% and 35% improvement, respectively.
However, the most noteworthy revelation from this Geekbench listing is not just the remarkable benchmark results. It confirms Samsung's strategy to diversify chipsets once again. While the Exynos 2400 platform will power some of the Samsung Galaxy S24 flagship models, the Ultra variant appears set to exclusively embrace the Snapdragon 8 Gen 3, delivering enhanced performance and user experience.
With Samsung's commitment to pushing the boundaries of smartphone technology, the Samsung Galaxy S24 Ultra Snapdragon 8 Gen 3 chipset promises an exciting evolution in the flagship smartphone arena. Stay tuned for the official launch in January, where more details about this cutting-edge device will be unveiled.