Samsung has introduced a delightful treat for its customers in Korea, unveiling limited-edition cases inspired by Pixar's beloved Toy Story franchise for their recently launched Galaxy Buds FE wireless earbuds. These whimsical cases come in two enchanting designs, featuring the endearing Lotso Bear and the mischievous Hamm characters. Korean buyers can now find these charming cases exclusively on the local online marketplace, G Market.
Pricing and Early Bird Special
The Lotso Bear-inspired case is available for KRW 39,600 ($30), while the Hamm-themed case is priced at KRW 36,300 ($28). For those looking to pair these cases with the Galaxy Buds FE, the combined cost would be KRW 125,900 ($97). However, Samsung is offering an early bird special until November 29th, allowing customers to snag this delightful duo for just KRW 105,900 ($82).
A Dash of Pixar Magic
These Toy Story-themed cases bring a touch of Pixar's magic to your Galaxy Buds FE, making them stand out in style. The Lotso Bear design encapsulates the warm and fuzzy character, perfect for those who adore his endearing personality. Meanwhile, the Hamm-inspired case is a playful choice for those who appreciate a touch of mischief and humor in their accessories.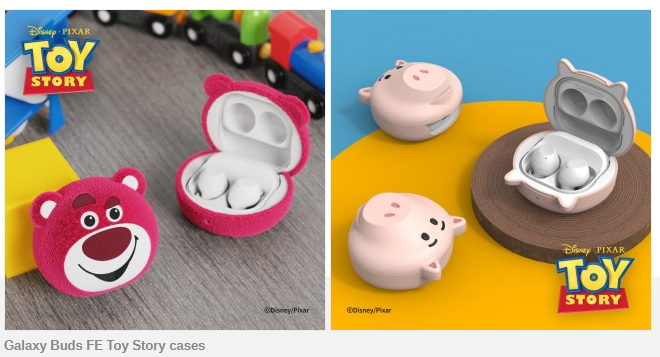 A Whimsical Addition
Samsung's collaboration with Toy Story allows fans of the beloved film series to add a touch of whimsy and nostalgia to their tech accessories. These cases not only offer protection for your Galaxy Buds FE but also add a touch of personality and fun to your everyday carry.
Limited Availability
It's important to note that these limited-edition cases are available exclusively in South Korea. Fans and collectors alike should take advantage of the early bird pricing to secure their Toy Story-themed cases before the offer expires on November 29th.
Samsung's latest offering not only enhances the functionality of the Galaxy Buds FE but also adds a touch of playfulness to your daily life. The combination of cutting-edge technology and beloved Toy Story characters makes this a must-have for fans and tech enthusiasts alike. Don't miss your chance to add a dash of Pixar magic to your Galaxy Buds FE with these delightful cases!
Source (in Korean)