In anticipation of the upcoming Vivo X100 flagship launch on November 13, the next generation Vivo smartwatch, the Vivo Watch 3, has been making waves with official teaser images showcasing its sleek and functional design. This highly-anticipated wearable will be available in two elegant color options: black and beige, providing users with style choices to match their preferences.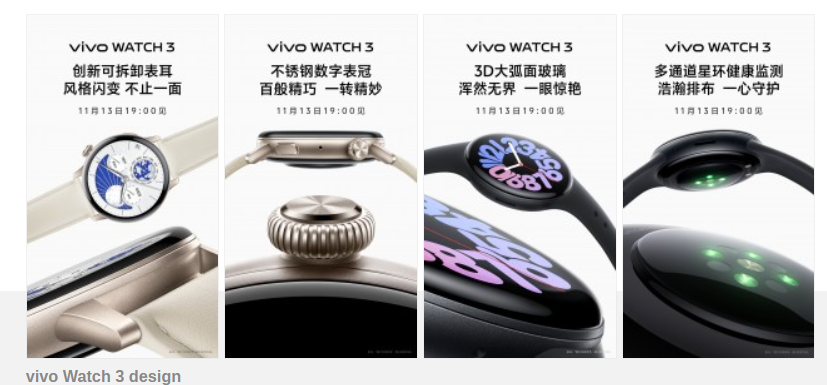 The most striking feature of the Vivo Watch 3 is the addition of a digital crown button, which serves as an intuitive means of navigating the watch's interface. Alongside this, there is a side button that complements the overall usability of the device. Moreover, the presence of speaker and microphone cutouts strongly suggests that this smartwatch will support voice calls, enhancing its practicality and convenience.
One of the most exciting aspects of the Vivo Watch 3 is its integration with Vivo's self-developed BlueOS operating system. This operating system, based on the Rust programming language, promises a seamless and responsive user experience. BlueOS will offer various input capabilities, including voice commands and gestures, making interactions with the watch easy and intuitive.
In addition to these features, the Watch 3 is designed for effortless connectivity with other Vivo smartphones and wearables. This ensures that users can enjoy a truly integrated experience, allowing them to stay connected and access their favorite features seamlessly.
The Watch 3 is poised to be a game-changer in the world of smartwatches. Its thoughtful design, advanced features, and compatibility with Vivo's ecosystem make it a compelling choice for tech enthusiasts and fashion-conscious consumers alike. As the launch date approaches, it's clear that Vivo has raised the bar for smartwatch technology, and we can't wait to see the Vivo Watch 3 in action on November 13. Stay tuned for more updates on this exciting release.
Source (in Chinese)