London, September 25, 2023 – Google enthusiasts, mark your calendars! Google is all set to unveil its highly anticipated Google Pixel 8 and Pixel 8 Pro duo on October 4. As the excitement builds, details about these new smartphones have started to surface. Notably, the prices for the UK and US markets have been leaked, along with some key specifications for the devices.
Pixel 8 Prices and Specs
The Google Pixel 8 and Pixel 8 Pro is expected to make its entry at an attractive starting price of £699 in the UK and $699 in the US. With 8 GB of RAM under the hood, it promises to offer a significant performance boost over its predecessor. While the camera setup remains largely unchanged, the Pixel 8 aims to shine with its new Tensor G3 chipset, designed to deliver improved processing power. Another noteworthy upgrade is the sensor behind the selfie camera, set to enhance the overall photography experience.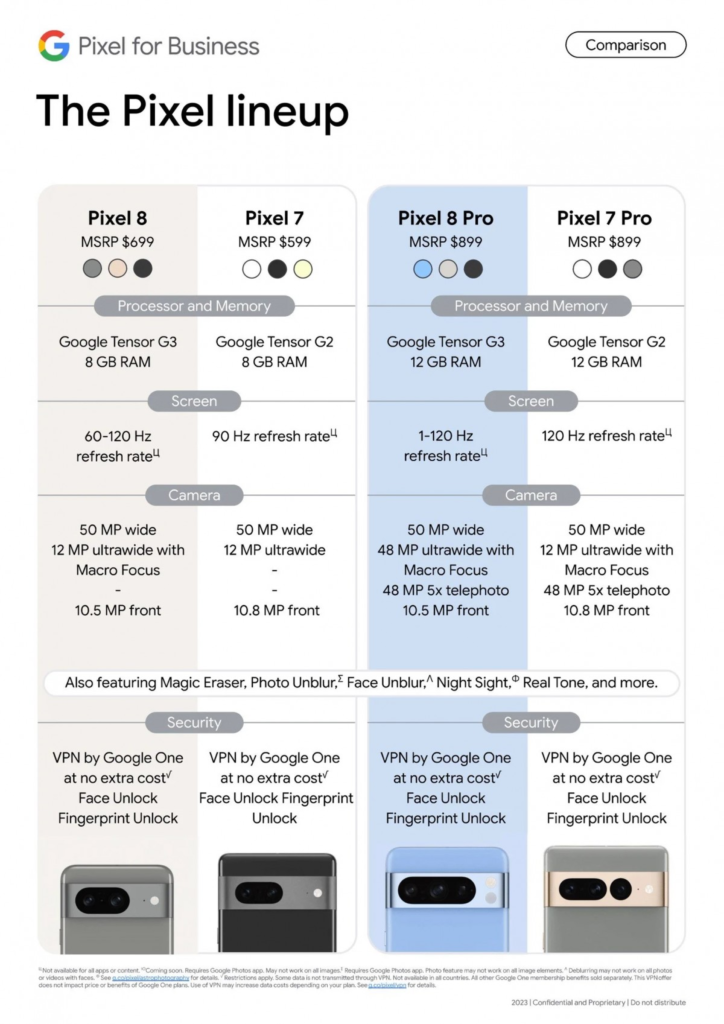 Pixel 8 Pro Pricing and Notable Features
For those seeking a more advanced option, the Pixel 8 Pro is anticipated to come with a price tag of £999 in the UK and a slightly more affordable $899 in the US. One of the standout features of the Pixel 8 Pro is its new LTPO OLED screen, promising vibrant visuals and energy efficiency. Additionally, it will introduce a 48 MP ultrawide camera, replacing the 12 MP sensor found in the Pixel 7 Pro, while the latter will retain its position in the non-Pro version. The hero color for the Pixel 8 Pro is expected to be the striking Blue seen in various promotional materials. Furthermore, the Pixel 8 Pro's camera setup will feature a third camera, integrated into an oval design alongside the other two shooters.
Pixel Watch 2 Pricing
In addition to the smartphones, the Pixel Watch 2 is also on the horizon, with a price point of £349. Google fans can anticipate a range of features and improvements in this wearable device, adding to the ecosystem of Google products.
As the October 4 launch date approaches, the tech world eagerly awaits more details and hands-on experiences with the Google Pixel 8 and Pixel 8 Pro. With promising pricing and intriguing upgrades, these smartphones aim to continue Google's tradition of delivering innovative and competitive devices to the market. Stay tuned for the official unveiling to see how these new additions to the Pixel family perform and whether they live up to the hype.