In a recent Weibo post, a tantalizing official poster has unveiled key details about Huawei nova 12 and 12 Pro. The spotlight of this revelation falls on the nova 12 Pro, which is poised to impress tech enthusiasts with its remarkable features, including the use of the formidable Kirin 9000S chipset—a processing powerhouse also found in the Mate 60 series.
Kirin 9000S Chipset Powers nova 12 Pro
At the heart of the nova 12 Pro lies the formidable Kirin 9000S chipset, underlining Huawei's commitment to delivering exceptional performance. This chipset, previously acclaimed for its prowess in the Mate 60 series, promises to provide users with a smooth and responsive experience, whether gaming, multitasking, or enjoying multimedia content.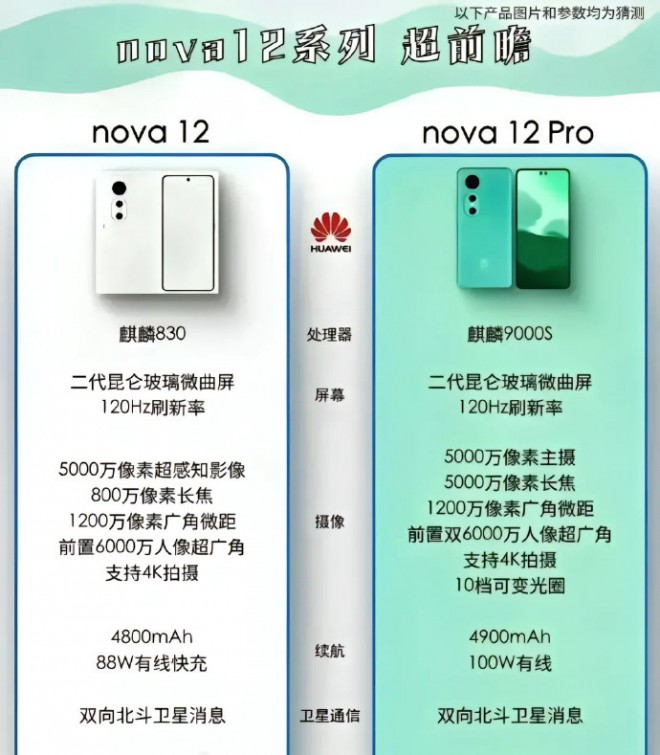 Stunning Display and Battery
The nova 12 Pro further entices users with its curved 120Hz OLED panel, boasting second-generation Kunlun protection. This immersive display promises vivid visuals and silky-smooth scrolling. To ensure that users can enjoy their nova 12 Pro for extended periods, a generous 4,900 mAh battery is onboard, complemented by the convenience of 100W fast charging.
Impressive Camera Capabilities
Photography enthusiasts will be delighted by the nova 12 Pro's versatile camera system. On the rear, a triple-camera setup comprises a 50MP main camera, a 12MP ultrawide camera with autofocus and macro mode, and a 50MP telephoto shooter. What's particularly intriguing is the inclusion of a 10-step variable aperture adjustment, offering enhanced control over photography settings. The device is also equipped with two 60MP ultrawide selfie snappers, ensuring stunning self-portraits.
nova 12: A Powerful Contender
For those seeking a slightly more budget-friendly option without compromising on key features, the vanilla nova 12 is a compelling choice. It is powered by the Kirin 830 SoC, delivering commendable performance. Like its Pro counterpart, it boasts a curved 120Hz OLED screen for a captivating visual experience.
Differences and Pricing
While the nova 12 shares several features with the Pro model, there are notable differences. It lacks one of the 60MP front-facing cameras, and its rear camera setup comprises an 8MP telephoto unit instead of the 50MP found in the Pro variant. The nova 12 comes equipped with a 4,800 mAh battery and supports 88W fast charging.
The leak suggests that the nova 12 series will start at CNY 2,999 ($410), making it an enticing proposition for smartphone enthusiasts. However, there's no official word on the availability of these exciting devices.
In conclusion, Huawei's nova 12 and nova 12 Pro are poised to make a significant impact in the smartphone market, offering powerful performance, stunning displays, and impressive camera capabilities at competitive price points. Smartphone enthusiasts eagerly await the official release to experience these devices firsthand.