Samsung enthusiasts in South Korea have reason to celebrate as the tech giant rolls out its One UI 6 beta for the Galaxy Z Fold4, Galaxy Z Flip4, and Galaxy F23. This exciting update introduces users to the Android 14 experience and an array of new features.
The One UI 6 beta brings a fresh design to the Quick Panel, along with AI enhancements for the Gallery. Users can now enjoy features like Photo Remaster and Object Eraser. Samsung Studio, a new multi-layer video editor, allows for easy customization of videos with text, stickers, and music. Additionally, camera widgets offer quick access to various camera modes, enhancing the photography experience.
One of the notable changes in this update is related to multitasking. When a pop-up window is open and users switch to Recent apps, the window no longer gets minimized, ensuring a smoother workflow. Furthermore, the update facilitates drag-and-drop actions on the homescreen, making it easier to rearrange icons and widgets, especially on the large internal displays of the Galaxy Fold devices.
While the beta version is currently available for the Galaxy Z Fold4, Z Flip4, and F23 in South Korea, there is no official information on when it will reach the Galaxy Z Fold5 and Z Flip5 in other regions. Samsung is taking a gradual approach to the rollout, having initially released the updates in the US and India.
The Galaxy F23, a variation of the Galaxy M23 sold in India, has also received its share of the Android 14 goodness. This hints that the M23 version should receive the update shortly, but no official confirmation has been provided.
To stay updated on the One UI 6 Beta Program, it's advisable to install the Samsung Members app. This app will notify users when the beta is available in their region. However, some users may prefer to wait for the stable release for a more polished experience.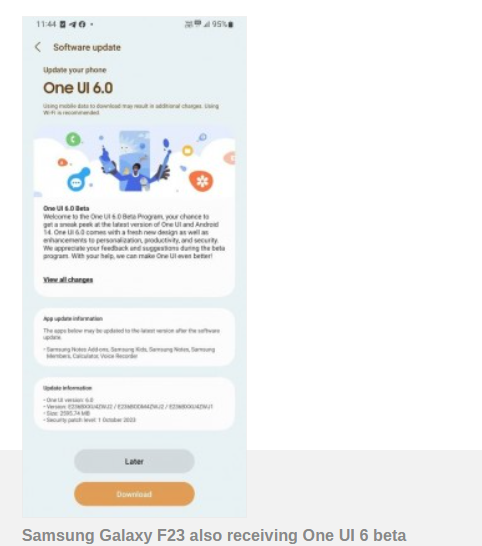 In conclusion, Samsung's One UI 6 beta is expanding its reach, introducing exciting features and improvements to its lineup of foldable devices and mid-range smartphones. Users can look forward to an enhanced user experience as they explore the new capabilities of Android 14 and One UI 6.