In a much-anticipated move, the OPPO Reno 11 series is poised to make its grand entrance into the smartphone arena on November 23, promising an array of exciting features that have been unveiled through intriguing teasers. Breaking new ground, the standard OPPO Reno 11 is equipped with the robust MediaTek Dimensity 8200 processor, a chipset launched in December of the previous year, assuring users a seamless and powerful performance.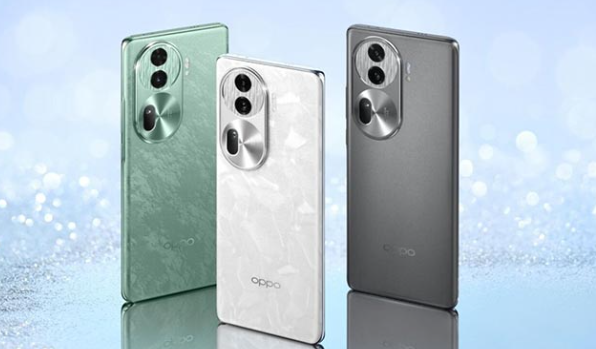 Power-Packed Performance: MediaTek Dimensity 8200 and ColorOS 14 Integration
The spotlight is on the Reno 11 as it takes pride in being the first smartphone to ship with ColorOS 14 right out of the box, providing users with a glimpse into the latest and most sophisticated user interface. This is complemented by the MediaTek Dimensity 8200 processor, promising a potent combination of speed and efficiency for an unparalleled user experience.

Visual Excellence: Curved Displays and Pill-Shaped Camera Module
The teaser video reveals a visual treat, showcasing the Reno 11 series with a curved display featuring a centrally aligned punch-hole cutout. The slim profile and distinctive pill-shaped camera module add to the aesthetic appeal, promising a device that seamlessly blends style and functionality.
Innovative Camera Technology: 32MP Portrait Lens
Building on the legacy of its predecessors, the Reno 11 series introduces a 32MP portrait lens with a 47mm focal length, setting a new standard for portrait images. This innovation brings the series on par with the esteemed Find X series, ensuring users capture moments with exceptional clarity and detail.
Vibrant Colors and Over 100,000 Reservations
The color palette for the Reno 11 duo is equally impressive, offering Flourite Blue, Moonstone, Turquoise, and Obsidian Black colorways. The series has already generated significant anticipation, with over 100,000 reservations, highlighting the excitement surrounding the upcoming OPPO devices.
As the launch date approaches, additional teasers are expected to unveil more details about the Reno 11 series, solidifying its position as a flagship contender in the ever-evolving world of smartphones.