Qualcomm has officially unveiled its latest midrange mobile chipset, the Snapdragon 7 Gen 3, representing a significant advancement in processing power and efficiency. Fabricated on TSMC's cutting-edge 4nm process technology, this chipset positions itself between its predecessors, the SD 7+ Gen 2 and SD 7s Gen 2. Featuring a 1+3+4 CPU configuration, the Kryo CPU boasts a prime core clocked at 2.63GHz, complemented by three performance cores at 2.4 GHz and four efficiency cores at 1.8GHz.
Snapdragon 7 Gen 3
Qualcomm asserts a notable 15% improvement in CPU performance and an impressive 50% boost in Adreno GPU capabilities compared to the previous Snapdragon 7 Gen 1 chip. Moreover, the 7 Gen 3 chip is designed to deliver a 20% power savings, as per Qualcomm's testing standards.
The Qualcomm Hexagon NPU integrated into the SD 7 Gen 3 promises a remarkable 60% increase in AI performance per watt over its predecessor, the SD 7 Gen 1. The Adreno GPU supports essential APIs, including OpenGL ES 3.2, OpenCL 2.0 FP, and Vulkan 1.3.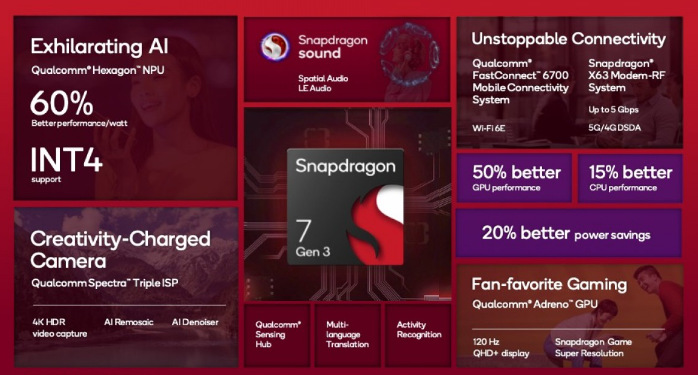 4K resolution displays
The new Snapdragon chip introduces support for up to 4K resolution displays at a 60Hz refresh rate or FHD+ resolution at an impressive 168Hz. It incorporates a Qualcomm Spectra ISP capable of handling up to 200MP main camera modules and recording 4K HDR video at 60Hz.
Snapdragon X63 5G Modem-RF System
Paired with the Snapdragon X63 5G Modem-RF System, the SD 7 Gen 3 ensures lightning-fast download speeds of up to 5 Gbps over mmWave and sub-6 GHz bands. In the connectivity department, the chipset supports Wi-Fi 6E and Bluetooth 5.3 standards.
Mobile Chip Technology
Anticipated to debut later this month, the Snapdragon 7 Gen 3 will make its first appearance in devices from key OEMs such as Honor and vivo, marking a new era in mobile chip technology.
5G Modem-RF System
In summary, Qualcomm's Snapdragon 7 Gen 3 brings a powerful blend of enhanced CPU and GPU performance, energy efficiency, advanced display capabilities, and 5G connectivity, setting a new standard for midrange mobile chip technology. With its imminent release in devices from prominent manufacturers, consumers can expect a notable leap in their mobile computing experiences.