In a groundbreaking announcement, Samsung has introduced its very own generative AI model, named Gauss, set to make its debut with the highly anticipated Galaxy S24 series in January 2024. Gauss, a nod to the renowned mathematician Carl Friedrich Gauss, promises to redefine the way we interact with our devices. Comprising three distinct components, Samsung Gauss Language, Gauss Code, and Samsung Gauss Image, this on-device AI model has been meticulously designed to cater to a range of tasks, making it a versatile addition to the tech giant's portfolio.
Samsung Gauss Language:
At the heart of this innovation is Gauss Language, a generative language model that is poised to revolutionize text-based tasks. From composing emails and summarizing documents to seamless content translation, Gauss Language aims to empower users with its natural language generation capabilities. Moreover, it will enable more intuitive device control, akin to popular virtual assistants like Google Home and Amazon Alexa.
Samsung Gauss Code:
For developers and coding enthusiasts, Gauss Code offers a compelling solution. Integrating the coding assistant code.i, it simplifies the coding process, facilitating quicker development, code description, and test case generation. This component promises to be a game-changer for those who work with code on a regular basis.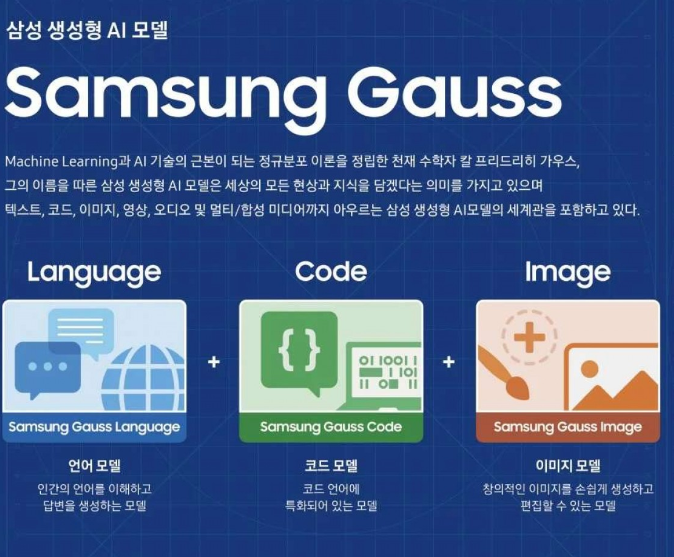 Samsung Gauss Image:
The third pillar, Gauss Image, harnesses the power of generative image modeling. This innovative feature is set to enable the creation and editing of images, style transformations, and even the enhancement of low-resolution images into high-quality visuals.
Already in use by Samsung employees to boost productivity, Gauss's versatility and potential applications extend far beyond the company's internal operations. As we eagerly await the launch of the Galaxy S24 series, Gauss is set to become an integral part of our everyday interactions with technology. With its rich capabilities and promising features, Samsung Gauss is poised to redefine the boundaries of what we can achieve with AI-driven devices. Stay tuned for this exciting addition to the Galaxy family in 2024!