In a highly anticipated move, Google has officially rolled out Android 14 to Pixel devices, marking the end of an extensive preview program that began in February. This release brings a host of exciting features and customization options that users have been eagerly awaiting. To enjoy Android 14, make sure you have a Pixel 4a 5G or a newer model.
Generative AI Wallpapers and Customization
One of the standout features of Android 14 is the introduction of Generative AI wallpapers, which are initially available on the Pixel 8 and Pixel 8 Pro. These wallpapers utilize text-to-image diffusion models to create stunning visuals that are sure to impress.
Moreover, users can now personalize their lock screens with various font styles, color palettes, and custom widgets shortcuts. This allows for one-tap access to essential apps like the QR reader or the Google Home app. Google has also introduced homescreen templates that adapt based on your current situation, making it easier to choose a style that suits your needs.
Enhanced Photography with Ultra HDR
Android 14 enhances your photography experience with support for Ultra HDR images, making your photos appear more vibrant and lifelike. This feature promises to take your smartphone photography to the next level.
Improved Multimedia Experience
Google has not stopped at visual enhancements. Android 14 introduces native spatial audio support, making your audio experience more immersive than ever. Additionally, the update includes a new media player for a seamless playback experience.
Privacy and Security
Privacy and security remain top priorities in Android 14. Health Connect, a built-in feature, ensures that all your personal health data is stored and encrypted locally on your device, providing peace of mind regarding your sensitive information. Users will also receive notifications when apps attempt to share their location data with third parties and have the option to deny access, putting you in control of your data.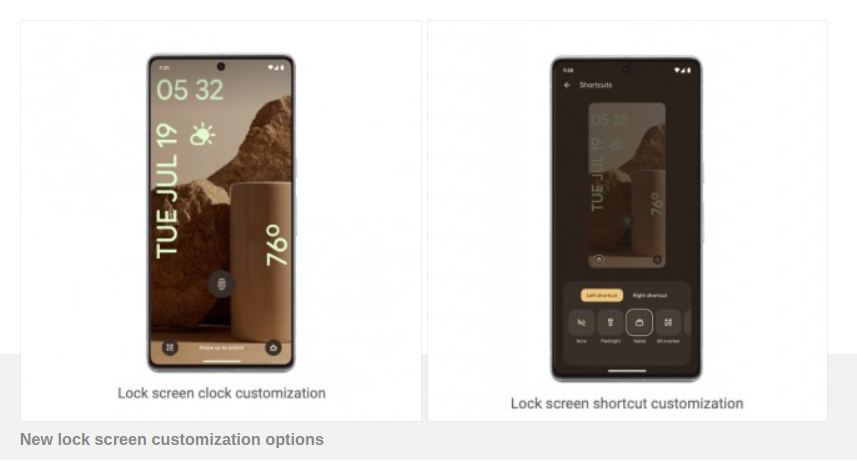 Enhanced Passkey Support and Accessibility Features
Android 14 further improves passkey support by introducing fingerprint authentication in third-party apps and an updated 6-digit PIN lock screen option. Accessibility features have also been enhanced, with improved magnification through pinch-to-zoom and variable magnification sizes. Users can now easily adjust font sizes from the quick settings menu, with nonlinear scaling for improved legibility. Moreover, a dedicated hearing aid setup is available within the Accessibility settings, along with more options to route audio to different outputs.
Android 14 promises to be a game-changer for Pixel users, with its impressive features and commitment to privacy and accessibility. While Pixel users are the first to experience this exciting update, Android OEMs, including Samsung, iQOO, Nothing, OnePlus, Oppo, Realme, Sharp, Sony, Tecno, vivo, and Xiaomi, are expected to roll out Android 14 updates to their devices in the coming months, ensuring a wider audience can enjoy these enhancements.
Upgrade your Pixel device today and explore the many new possibilities that Android 14 has to offer.