In a recent development, the highly anticipated Asus ROG Phone 8 Ultimate has made its mark on Geekbench, revealing some intriguing details about its powerhouse capabilities. The device, bearing the model name ASUS_AI2401_D, is equipped with the formidable Snapdragon 8 Gen 3 chipset and a staggering 24GB of RAM. This powerhouse combination allows the ROG Phone 8 Ultimate to achieve an impressive 2,235 points on the single-core test and a remarkable 7,098 points on the multi-core test. These results align seamlessly with the figures previously shared by Qualcomm, reaffirming the device's robust performance.
The Geekbench listing further unveils that the ROG Phone 8 Ultimate will run on Android 14, likely featuring Asus's distinctive ROG UI. As the details continue to unfold, it is anticipated that more specifications and possibly some renders will surface in the weeks to come, building anticipation among tech enthusiasts.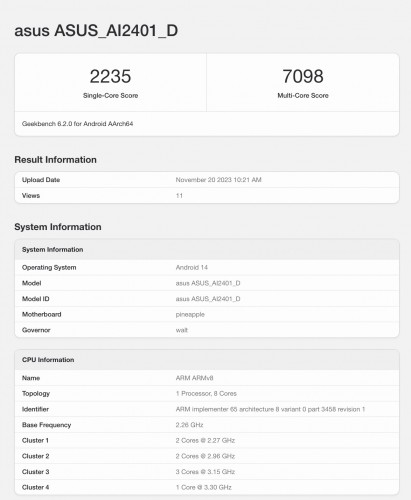 Amidst the excitement surrounding the Geekbench revelations, the Asus ROG Phone 8 Ultimate is poised to be a game-changer in the realm of gaming smartphones. The Snapdragon 8 Gen 3 chipset, known for its cutting-edge performance, ensures that users can seamlessly navigate demanding games and resource-intensive applications. This powerful combination of hardware components positions the ROG Phone 8 Ultimate as a frontrunner in the competitive smartphone market.
The substantial 24GB of RAM not only contributes to the device's fluid multitasking capabilities but also enhances its overall efficiency. Mobile gamers, in particular, will appreciate the responsiveness and quick loading times facilitated by this generous RAM capacity.
Furthermore, the choice of Android 14 as the operating system, complemented by Asus's ROG UI, promises a user-friendly interface with a host of gaming-centric features. The integration of the latest Android iteration ensures that users will benefit from the latest security updates, features, and optimizations.
As the unveiling continues, tech enthusiasts are eagerly awaiting additional specifications and, undoubtedly, some visually-stunning renders that showcase the design prowess of the Asus ROG Phone 8 Ultimate. With the gaming smartphone market evolving rapidly, the ROG Phone 8 Ultimate's formidable specifications and benchmark scores position it as a noteworthy contender, catering to the growing demand for high-performance mobile devices.