Meizu, a prominent player in the smartphone market, has officially announced the launch event for its highly anticipated flagship phone, the Meizu 21. The event is scheduled for November 30, starting at 2:30 PM Beijing time (6:30 UTC). Enthusiasts can anticipate the unveiling of not just one, but at least two models: the Meizu 21 and Meizu 21 Pro.
Cutting-Edge Display Technology
A standout feature of the Meizu 21 is its 6.55-inch Samsung OLED screen, showcasing symmetrical 1.74mm bezels on all four sides. The display promises a visually immersive experience, setting the stage for a top-tier smartphone. Meizu has also teased a variant with a white front panel, adding a touch of elegance to the device.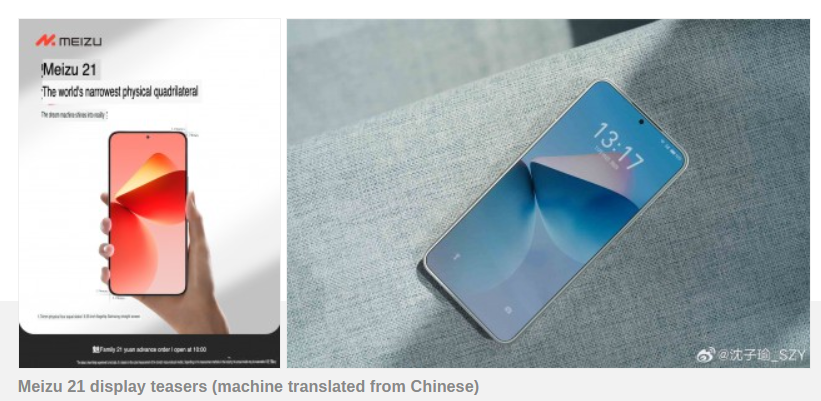 Powerful Performance and Operating System
Under the hood, the Meizu 21 is expected to pack a punch with the Snapdragon 8 Gen 3 chipset. This powerful hardware is complemented by the FlymeOS, Meizu's proprietary operating system based on Android 14. The combination ensures a seamless and responsive user experience, emphasizing performance and innovation.
Introducing FlymeAuto and Extended Warranty
Meizu has hinted at an exciting addition to the Meizu 21 series—FlymeAuto. This feature is anticipated to integrate seamlessly with Geely's lineup of vehicles, including Polestar, Lotus, and Lynk & Co brands. This integration reflects Meizu's commitment to innovation beyond the smartphone realm.
Additionally, the company has confirmed a generous 36-month warranty for all Meizu 21 phones, providing users with an extended period of peace of mind and support.
As the Meizu 21 launch event draws near, anticipation is building among tech enthusiasts and smartphone aficionados. The combination of cutting-edge display technology, powerful performance, and innovative features positions the Meizu 21 as a formidable contender in the competitive smartphone market.
In summary, the Meizu 21 launch event on November 30 promises to unveil a smartphone that not only meets but exceeds expectations, marking a significant leap forward for Meizu in the world of flagship devices.
Source (in Chinese)