In the ever-expanding world of smartwatches, Huawei has unveiled its latest offering, the Huawei Watch GT4, and it's making a statement. With a sleek design, an array of features, and an attractive price point, this smartwatch is poised to capture the attention of tech enthusiasts and fitness aficionados alike.
One of the standout features of the Huawei Watch GT4 is its versatility. While it seamlessly integrates into the Huawei ecosystem, it also boasts full compatibility with both iOS and Android devices, making it an appealing option for a wider audience.
Design-wise, the Huawei Watch GT4 offers two size options: 41mm and 46mm. The smaller version comes with an interesting 18mm lug-to-lug distance that Huawei dubs "Pendant Design." It's available in three stylish finishes: White Leather, Milanese, and a captivating Two-Tone Piano Key design.
Both versions feature vibrant 1.32-inch and 1.43-inch AMOLED displays, respectively, offering excellent clarity with pixel densities of 352 PPI and 326 PPI. Powering these displays is a 323mAh battery for the smaller version and a substantial 524mAh battery for the larger one. Remarkably, Huawei claims that the battery life can extend up to seven days and two weeks for the 41mm and 46mm variants, respectively.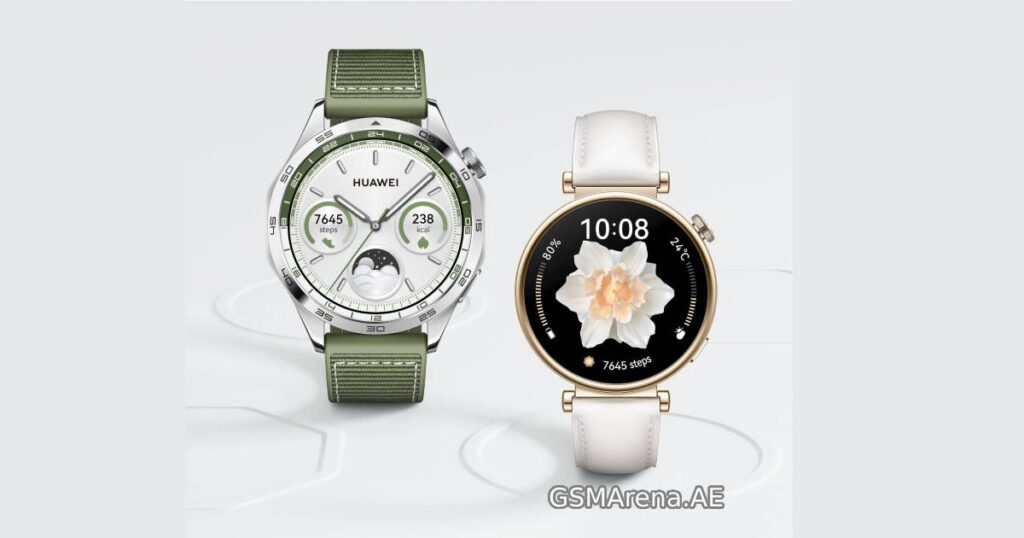 If you opt for the larger 46mm version, you'll enjoy a more standard 22mm lug-to-lug distance. This model comes in four distinct finishes, including Black Rubber, Brown Leather, Rainforest Green, and Steel. Huawei's choice of an octagonal design gives it a unique flair.
Customization is key with the Huawei Watch GT4, offering a variety of watch faces and an Always-On Display (AOD) feature. But this smartwatch is not just about aesthetics; it's packed with monitoring technology. The TruSeen 5.5 Plus technology allows for comprehensive tracking of vital statistics, including heart rate, sleep patterns, blood oxygen levels, steps taken, and calories burned. Women can also track their menstrual cycles with ease. Notably, the watch includes Sleep Breathing Awareness, a feature that can identify symptoms of sleep apnea.
Managing your health and fitness is made more accessible with the Stay Fit app, which helps with calorie management and more. In terms of durability, the Huawei Watch GT4 boasts an IP68 rating and can withstand depths of up to 50 meters underwater.
The price tag for the Huawei Watch GT4 is enticing, with the 41mm White Leather variant and 46mm Black Rubber variant priced at £229.99/€249. It's set to hit major retailers on October 4th, offering consumers an excellent combination of style, functionality, and affordability. Whether you're an Android or iOS user, the Huawei Watch GT4 is poised to make a strong case as one of the coolest smartwatches on the market.