Looking for a protective case for your brand new iPhone 15 Pro? We have handpicked the best ones which are available to buy right now.
Ordering the iPhone 15 Pro? Grab One of these Protective Cases and Remain Scratch Free
Chances are high you'll be putting in your order for the iPhone 15 Pro – one with the 6.1-inch display. If that's so, it would be a smart move to order in a case right now if you want to keep your smartphone nice and protected on day one.
There are plenty of cases to choose from, and it's easy to get lost in those choices. We did some legwork for our readers and handpicked the best ones that are worth your time. From options that offer great drop protection to 360-degree coverage with a built-in screen protector, you'll find something in here that suits you best.
Spigen Ultra Hybrid MagFit Pack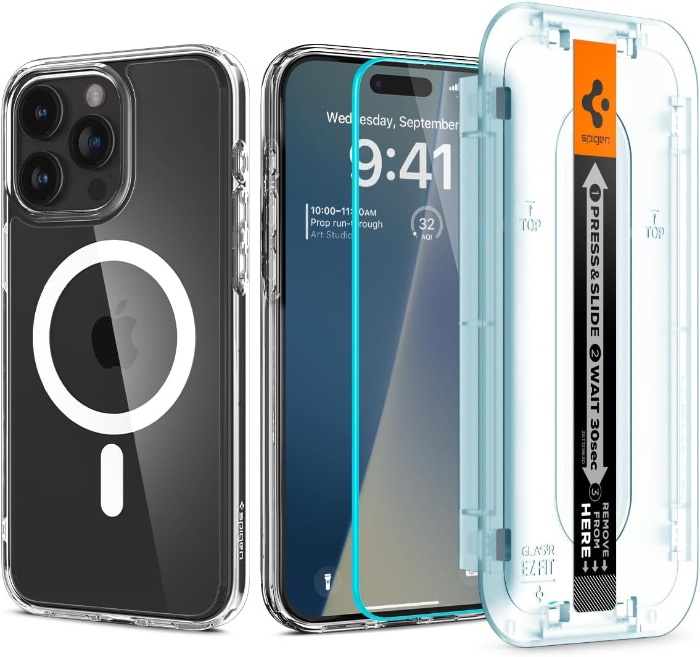 Spigen is renowned for producing quality smartphone accessories, and their Ultra Hybrid MagFit Pack for the iPhone 15 Pro lives up to the reputation. This pack offers you an amazing clear case with MagSafe capabilities and a screen protector, all for just $23.99. The combination of protection and value makes this a top choice for iPhone 15 Pro owners.
Buy Spigen Ultra Hybrid MagFit Pack
SUPCASE Unicorn Beetle Pro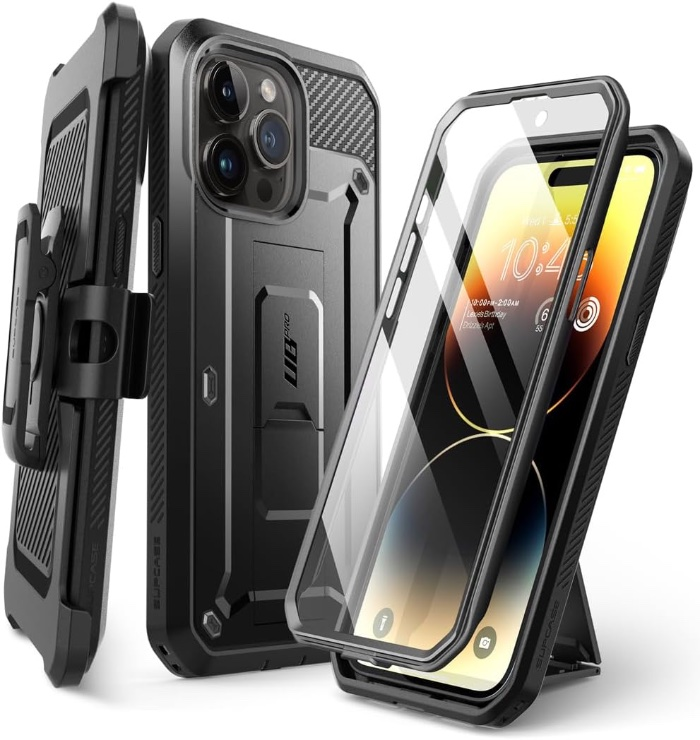 For those who demand the highest level of protection for their iPhone 15 Pro, the SUPCASE Unicorn Beetle Pro is a no-brainer. This rugged iPhone 15 Pro Cases comes with a screen protector, a belt clip, a kickstand, and incredible drop protection, all for just $24.99, AED. 71. Whether you're going into battle or just want peace of mind, this case has you covered.
Buy SUPCASE Unicorn Beetle Pro
TORRAS Magnetic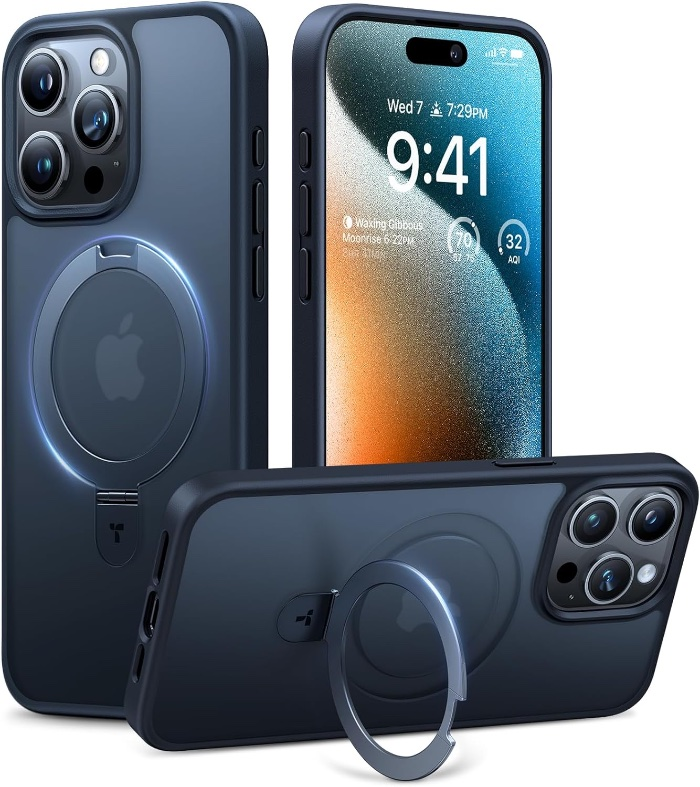 TORRAS Magnetic case not only protects your iPhone 15 Pro but also adds convenience with its built-in ring that keeps your phone upright in landscape or portrait position. It's equipped with MagSafe support and features super smooth materials for a comfortable experience, all for a reasonable $35.99, AED. 49.
Spigen Thin Fit
If you prefer a minimalistic approach to case design, the Spigen Thin Fit is an excellent choice. While it may be barely noticeable, it provides reliable protection against drops and scratches for just $16.99, AED. 79. Don't let its slim profile fool you; it's a tough defender of your iPhone 15 Pro.
Caseology Athlex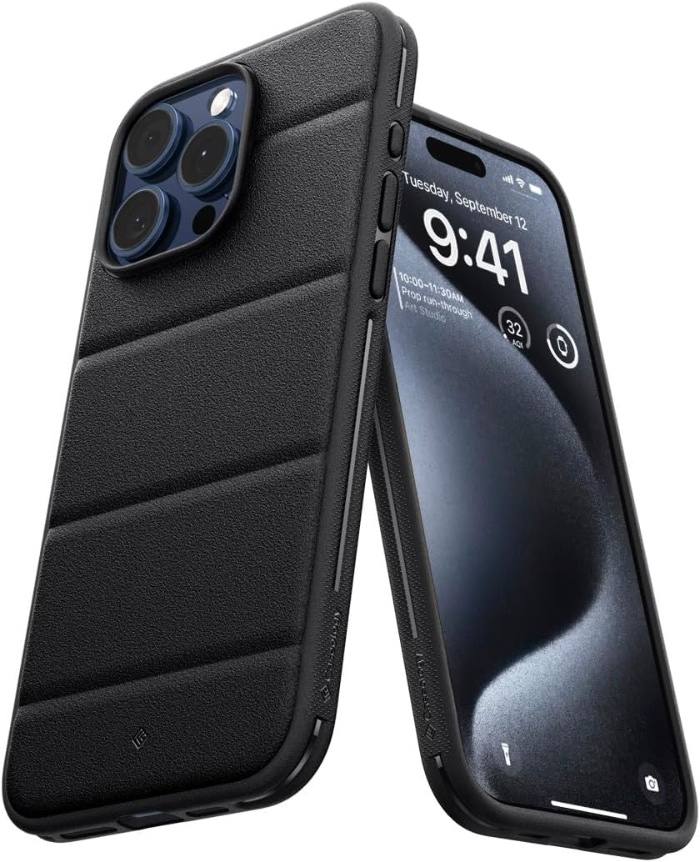 The Caseology Athlex case not only offers excellent drop protection but also features a grippy back to prevent accidental drops. Its stylish design is an icing on the cake, and it's available at an affordable price of just $9.99, AED. 99. Keep your phone safe and looking cool with this choice.
KSWOUS Glitter Case
For those who love a touch of glamour, the KSWOUS Glitter Case is the perfect fit. This option not only adds a sparkling touch but also includes 2 screen protectors and 2 camera lens protectors in the package. Elevate your style and protection game for a mere price.
Spigen Liquid Crystal
The Spigen Liquid Crystal case is what you'd call a 'jelly' case. It's easy to put on and remove, offers excellent protection on all four corners, and even comes in a couple of glitter options for added bling. For just $13.99, AED.69, it's a pretty good deal.
TORRO Leather Case
If you want a iPhone 15 Pro Cases that combines elegance with functionality, the TORRO Leather Case is an excellent choice. This leather wallet case offers space for carrying cash and ensures your phone stays safe from everyday hazards. All that for just $42.99, AED. 139.
InUnion Magnetic Case
Apple may no longer produce a leather case, but InUnion does, and it comes in a flashy yellow finish with MagSafe support. For just $25.99, AED.63, you can enjoy the premium feel of leather protection for your iPhone 15 Pro.
ESR Case and Protector Kit
Packing ESR's Air Guard technology to keep your phone safe against drops, this kit also includes a couple of screen protectors and camera lens protectors for complete all-around protection. At just $19.99, AED.76, you're getting two great things for one low price.
Buy ESR Case and Protector Kit
GONEZ Case and Screen Protector Kit
For those who love the grippy feel and protective capabilities of a silicone case, the GONEZ iPhone 15 Pro Cases and Screen Protector Kit is perfect. It includes 3 screen protectors and camera lens protectors, all for a budget-friendly price of just $12.99, AED.99.
Buy GONEZ Case and Screen Protector Kit
Miracase Magnetic Case
If you want to go all-in on protection, the Miracase Magnetic Best iPhone 15 Pro Cases is an ideal choice. With MagSafe support and added magnets at the back, along with a screen protector, it ensures your iPhone 15 Pro stays protected no matter what happens. For $29.99, AED.49, it's worth it if you want to keep your great phone well protected.
In conclusion, protecting your investment in the iPhone 15 Pro Cases is essential, you can do so in style and with confidence. Each case offers a unique set of features and protection levels to suit your preferences. Choose the one that fits your needs and enjoy peace of mind knowing your iPhone 15 Pro is safe and stylish
FAQs
Do these cases work with wireless charging?
Yes, all the mentioned cases are compatible with wireless charging, including MagSafe.
Are the screen protectors easy to install?
Yes, most of these cases come with easy-to-install screen protectors for added convenience.
Do these cases add much bulk to the iPhone 15 Pro?
No, these cases are designed to be slim and lightweight while providing excellent protection.
Can I still access all the ports and buttons with these cases on?
Absolutely, these cases are designed with precise cutouts for easy access to all ports, buttons, and features.
Do these cases come with a warranty?
Many of these cases offer warranties, so be sure to check the product details for warranty information.