In a recent AnTuTu benchmark test, the upcoming Oppo Find X7, equipped with the powerful Dimensity 9300 chipset, has astoundingly surpassed the 2.2 million score threshold. This achievement not only establishes a new benchmark for smartphones featuring the Mediatek platform but also positions the Find X7 as a formidable contender in the flagship device arena.
The specific model tested, identified as Oppo PHZ110, leaves enthusiasts eagerly anticipating its official release, raising questions about whether it represents the vanilla version or the Pro variant. Historically, both iterations of the Find X series have showcased Mediatek chipsets, and this trend appears set to continue with the Oppo PHZ110.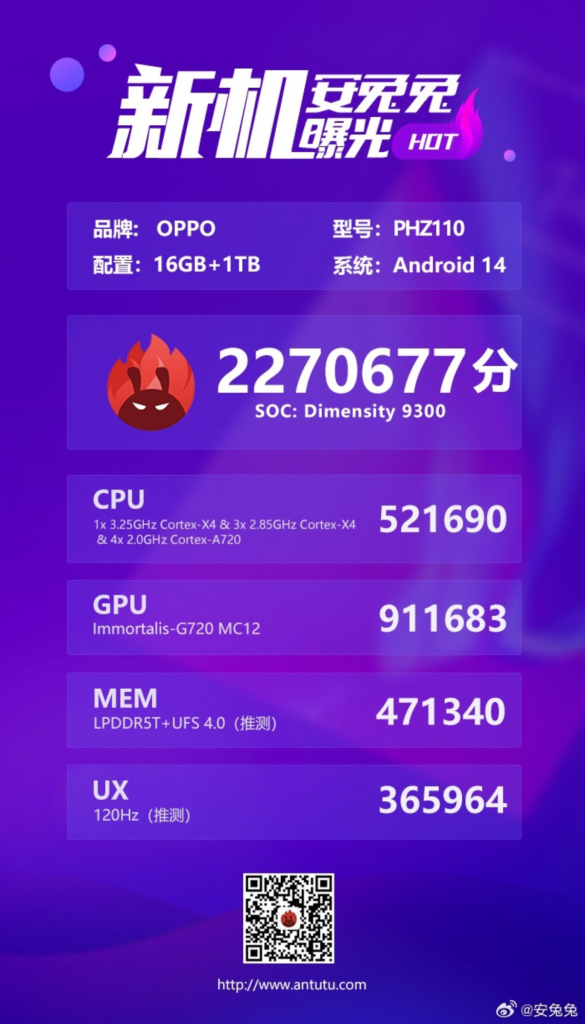 Anticipated to come in a 16 GB RAM + 1 TB storage configuration, the Oppo Find X7 promises an expansive and robust memory capacity, ensuring optimal performance for users. Moreover, the device is slated to debut with Android 14 straight out of the box, with the ColorOS 14 skin providing a seamless and user-friendly interface.
The benchmark score achieved by the Oppo Find X7, exceeding 2.2 million, mirrors the performance seen in Qualcomm's Snapdragon 8 Gen 3. This trend indicates a new standard for flagship smartphones, emphasizing raw processing power. However, it's crucial to note that while these benchmarks offer insights into potential capabilities, the real-world user experience may vary across devices and manufacturers.
As the industry witnesses a race towards ever-increasing performance metrics, consumers can anticipate a new era of smartphones delivering unparalleled speed and efficiency. The Oppo Find X7, with its Dimensity 9300 chipset, positions itself at the forefront of this technological evolution. With an impressive AnTuTu score and a promising feature set, the Find X7 is poised to make waves in the competitive flagship smartphone market.