In the latest development in the rugged smartphone realm, Samsung's upcoming Galaxy XCover 7, codenamed SM-G556B, has made a notable appearance on Geekbench, shedding light on some key specifications. The device, anticipated to be the next iteration in Samsung's durable smartphone series, has been spotted featuring a robust MediaTek Dimensity 6100+ chipset coupled with 6GB of RAM.
The Geekbench benchmark run unveiled a commendable performance, with the Galaxy XCover 7 achieving a 663 single-core score and an impressive 1,867 points in the multi-core department. These specifications suggest a device that promises both power and efficiency, catering to users seeking durability without compromising performance.
The listing further revealed that the Galaxy XCover 7 will operate on Android 14, presumably integrated with Samsung's One UI 6. This signifies a seamless user experience with the latest Android features complemented by Samsung's intuitive interface.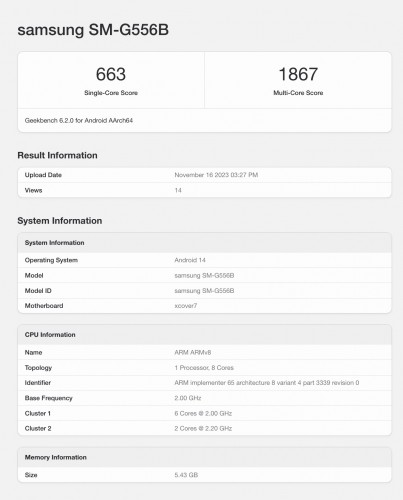 While there's no official confirmation regarding the release date, speculations are rife that the Samsung Galaxy XCover 7 might make its debut in the first quarter of 2024. As anticipation builds, enthusiasts can look forward to a rugged smartphone that not only withstands harsh conditions but also delivers a smooth and responsive user experience.
Key Specifications:
MediaTek Dimensity 6100+ Chipset: The Galaxy XCover 7's choice of the MediaTek Dimensity 6100+ chipset ensures a balance of power and efficiency, ideal for users in need of a durable device with reliable performance.
6GB RAM: With 6GB of RAM, the device is equipped to handle multitasking and resource-intensive applications, contributing to a seamless user experience.
Android 14 with One UI 6: Running on the latest Android 14 and paired with Samsung's One UI 6, users can expect a feature-rich interface with enhanced usability and customization options.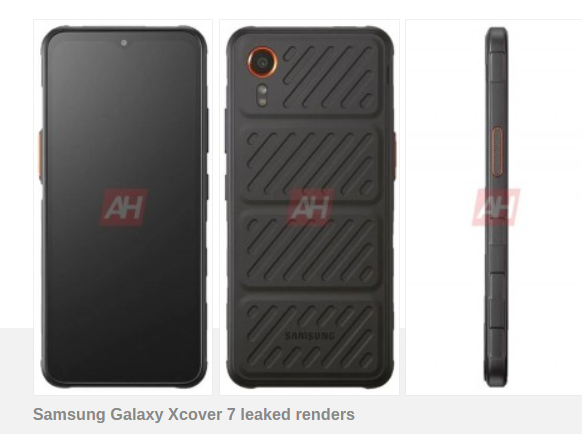 As the Samsung Galaxy XCover 7 continues to make waves in the rumor mill, tech enthusiasts eagerly await the official announcement, hoping for a device that not only meets but exceeds expectations in the rugged smartphone category. Stay tuned for further updates on the Galaxy XCover 7's release and features.