In a world dominated by tech giants like Apple and Samsung, Sony has quietly been producing exceptional smartphones. The Sony Xperia 5 V is the latest addition to their lineup, and while it may not have the same level of audience as its competitors, it brings a lot to the table. In this article, we will dive into the features and specifications of the Sony Xperia 5 V, exploring what makes it a compelling choice for those seeking quality on a budget.
The Xperia 5 V – A Closer Look
Impressive Hardware
The Sony Xperia 5 V boasts impressive hardware that can rival many flagship phones. It is powered by the latest Snapdragon 8 Gen 2 processor, coupled with 8GB of RAM and 128GB of storage. What sets it apart is the inclusion of a microSD card slot, a feature not commonly found in modern smartphones. This means you can expand your storage further, ensuring you won't run out of space for your apps and media.
Stunning Display
One of the standout features of this phone is its 6.1-inch FHD+ OLED screen with a 120Hz refresh rate. Sony sticks with its signature 21:9 aspect ratio, making it easy to handle and pocket. The display quality ensures a visually immersive experience, whether you're gaming, streaming, or browsing.
Long-lasting Battery
The Xperia 5 V packs a robust 5,000 mAh battery, which is substantial by any standards. What's even better is its support for 30W wired and 18W wireless charging. Say goodbye to the anxiety of running out of battery, as this phone can keep up with your daily usage without breaking a sweat.
Camera Upgrades
Capturing Memories
Sony has upped its game in the camera department with the Xperia 5 V. The primary camera is a 52-megapixel Exmor T sensor with OIS, offering an effective resolution of 48-megapixels.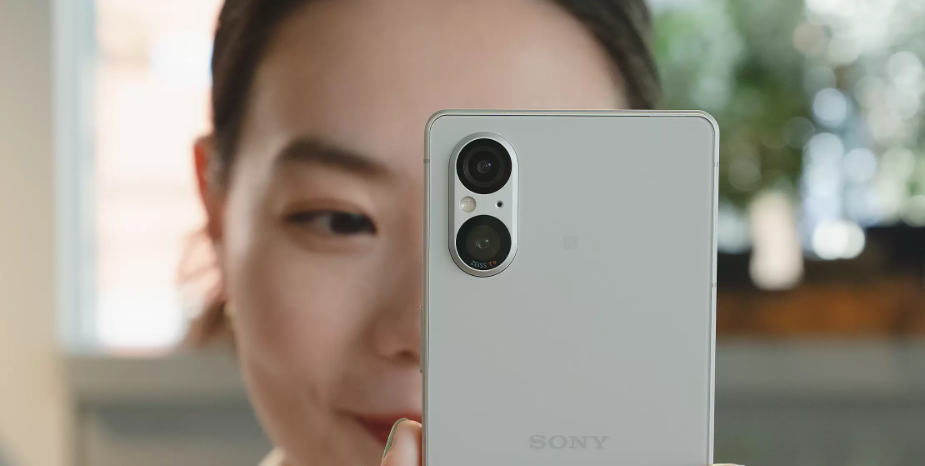 It promises sharp and detailed photos even in challenging conditions. Accompanying it is a 12-megapixel ultrawide camera that adds versatility to your photography. While it lacks a dedicated telephoto lens, Sony claims that the primary camera can deliver 2x zoom. On the front, a respectable 12-megapixel camera ensures your selfies look great too.
Software Support
While the Xperia 5 V excels in hardware, it falls short in software support. The phone runs on Android 13 with Sony's custom skin, but here's the catch – Sony guarantees only two major Android updates. Considering the phone's expected price tag of around $1,000, this may disappoint users who want long-term software support.
Additional Perks
Audio Excellence
Sony doesn't compromise on audio quality. The Xperia 5 V comes with a 3.5mm headphone jack, ideal for audiophiles. It also offers LDAC codec support and dual stereo speakers, ensuring an immersive audio experience. With unlimited streaming via Bravia Core, you'll never run out of entertainment options.
Durability and Design
The phone boasts an IP65/IP68 rating for dust and water resistance, making it suitable for various environments. Its Corning Gorilla Glass Victus 2 adds an extra layer of durability, protecting your device from accidental drops and scratches.
Specifications of the Sony Xperia 5 V
| Specification | Details |
| --- | --- |
| Display | 6.1-inch HDR OLED FHD+ |
| Refresh Rate | 120Hz |
| Aspect Ratio | 21:9 |
| Processor | Snapdragon 8 Gen 2 |
| RAM | 8GB |
| Storage | 128GB |
| Expandable Storage | microSDXC support (up to 1TB) |
| Battery Capacity | 5,000mAh |
| Wired Charging | 30W |
| Wireless Charging | 18W |
| Rear Cameras | – 52MP main (24mm), 48MP effective, 1/1.35-inch, OIS |
| | – 12MP ultrawide (16mm), 1/2.5-inch |
| Front Camera | 12MP, 1/2.9-inch |
| Audio | – 3.5mm headphone jack |
| | – Full-stage stereo speakers |
| | – DSEE Ultimate |
| | – LDAC |
| | – Hi-Res Audio |
| | – 360 Reality Audio Upmix |
| | – Music Pro |
| Connectivity | – Bluetooth LE Audio |
| | – 5G support |
| Dimensions | 154 x 68 x 8.6mm |
| Weight | 183g |
| Software | Android 13 |
| Color Options | – Black |
| | – Blue |
| | – Platinum Silver |
| Durability | – IP65/IP68 |
| | – Corning Gorilla Glass Victus 2 |
Xperia 5 V
Conclusion
The Sony Xperia 5 V is undoubtedly an impressive smartphone that caters to users looking for quality on a budget. With its powerful hardware, stunning display, and enhanced camera capabilities, it competes favorably with more expensive models. However, its Achilles' heel is the limited software support, which may deter those seeking a long-term investment.
In a market where longevity and software updates are increasingly vital, Sony's two-year promise may not be enough to sway potential buyers away from the competition. Nonetheless, if you prioritize performance and hardware over software longevity, the Xperia 5 V is worth considering.
FAQs
Is the Sony Xperia 5 V worth the price?
The Xperia 5 V offers impressive hardware and camera capabilities for its price, making it a worthwhile choice if you're not concerned about long-term software updates.
Does the Sony Xperia 5 V support 5G connectivity?
Yes, the Xperia 5 V comes with 5G support, ensuring faster data speeds and a seamless browsing experience.
Can I expand the storage on the Xperia 5 V?
Yes, the phone features a microSD card slot, allowing you to expand storage up to 1TB, providing ample space for your apps and media.
How does the Xperia 5 V compare to other Sony smartphones?
The Xperia 5 V offers a more budget-friendly option compared to other Sony models, while still delivering impressive hardware and camera performance.
What sets the Xperia 5 V apart from its competitors?
The phone's standout features include a high-refresh-rate OLED display, long-lasting battery, and excellent camera capabilities, making it a strong contender in its price range.