Are you ready to embark on breathtaking aerial adventures and capture mesmerizing moments from the skies? Look no further than the VISUO XS816 4K Drone with Camera, a foldable quadcopter designed to take your drone experience to new heights. Whether you're a seasoned enthusiast or a curious beginner, this feature-packed drone is sure to impress with its stunning capabilities and user-friendly design.
VISUO XS816 4K Drone with Camera Review
Immersive FPV Flight:
Experience the thrill of real-time flight with the XS816's 4K HD camera, offering impeccable video transmission. You can switch between various view modes, including normal front lens, lower lens, picture-in-picture, and split-screen, providing you with different perspectives for unparalleled shots.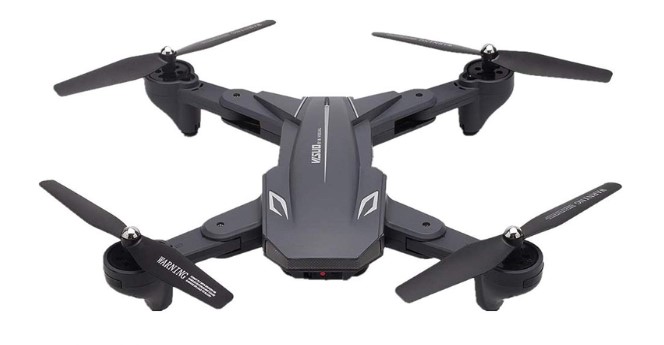 VISUO XS816 4K Drone Camera
Experience real-time FPV flight, stunning 4K video capture, and stable flight with its optical flow positioning system. Perfect for beginners and pros alike, this foldable quadcopter opens up a world of aerial photography possibilities.
Key Features
Extended Flight Time:
With an upgraded battery, the XS816 drone boasts an impressive maximum flight time of up to 20 minutes. Now, you can relish in more moments with your family and friends from the skies above, capturing memories that will last a lifetime.
Stability at its Finest:
The XS816 is equipped with an advanced Optical Flow Positioning System, ensuring smooth and stable flight even in challenging conditions. You'll have enhanced control and stability, making it perfect for both beginners and experienced pilots.
Intuitive Gesture Shooting:
No need for complex operations. Simply use gestures to command the drone to take photos, effortlessly capturing beautiful moments in the blink of an eye.
Easy G-Sensor Control:
Pilot the drone like a pro by tilting your mobile phone. The intuitive G-Sensor Control lets you navigate the drone with natural movements, giving you a truly immersive flying experience.
Create Your Flight Path:
Plan out your dream flight route using the Waypoint Flight feature on the accompanying app. The drone will follow your desired path, allowing you to focus on capturing incredible footage.
Headless Mode for Ease:
Forget about the drone's orientation; Headless Mode takes care of that for you, making it easier to fly and focus on getting the perfect shots.
Show-Stopping 360-Degree Flips:
Impress your audience with aerobatic stunts. With just a press of a button, the drone effortlessly performs 360-degree flips, bringing excitement to every flight.
Three Speed Modes:
Tailor the drone's speed to your preference and flying environment. Choose from High, Middle, or Low Speeds to have full control over your aerial adventures.
Safe One-Key Return:
At the press of a button, the drone automatically returns to its take-off point, ensuring a safe and hassle-free landing.
Portable and Illuminating:
The XS816's foldable and flexible design, along with LED navigation lights, makes it convenient for travel and enables thrilling night flights.
Altitude Hold Function:
Thanks to the built-in barometer, the drone maintains a stable altitude, enabling you to focus on capturing incredible footage without worrying about height adjustments.
Unleash your inner pilot and seize the skies with the Teeggi XS816 4K Drone with Camera. From captivating aerial photography to action-packed stunts, this drone offers endless possibilities for adventure and creativity.
Experience the wonders of aerial photography and videography by owning your very own Teeggi XS816 4K Drone with Camera. Don't miss out on this opportunity to elevate your drone game! Click the link below to make your purchase and start exploring the beauty of the UAE from above.
FAQs
What is the video resolution of the Teeggi XS816 drone's camera?
The Teeggi XS816 drone comes equipped with a high-definition 4K camera, allowing you to capture stunning videos at a resolution of 3840 x 2160 pixels. Experience the thrill of real-time flight and record your aerial adventures in exceptional clarity.
How long can the Teeggi XS816 drone fly on a single charge?
The XS816 drone features an upgraded battery that extends the flight time for up to 20 minutes. This means more time in the air to explore, record, and enjoy your aerial escapades without frequent interruptions.
Does the Teeggi XS816 drone have a GPS system for precise positioning?
While the XS816 drone doesn't come with a built-in GPS system, it offers an Optical Flow Positioning System for enhanced stability during flight. The optical flow technology helps the drone maintain a steady position, making it easier to control and capture steady footage.
Can I control the Teeggi XS816 drone using my smartphone?
Absolutely! The XS816 drone offers both remote control and smartphone control options. You can fly the drone using the 2.4GHz wireless remote control provided or utilize the APP WiFi Remote Control by connecting your smartphone to the drone's app. The G-sensor control feature also allows you to steer the drone by tilting your mobile device.
Is the Teeggi XS816 drone suitable for beginners?
Yes, the Teeggi XS816 drone is designed with features that make it beginner-friendly. The Headless Mode eliminates the need to worry about the drone's orientation, simplifying the flying experience for newcomers. Additionally, the Altitude Hold Function helps maintain a stable flight, giving beginners more confidence while piloting the drone.