Are you in search of a new smartphone that combines style, performance, and cutting-edge features? Look no further than the Oppo Reno 8. With its sleek design, impressive camera capabilities, and powerful hardware, the Oppo Reno 8 is a device that truly stands out in the crowded smartphone market. In this article, we will explore the key features, specifications, and benefits of the smartphone, giving you a comprehensive overview of why this smartphone should be at the top of your wishlist.
1. Introduction: The Oppo Reno 8's Impressive Network Capabilities
The Oppo Reno 8 supports a wide range of network technologies, including GSM, HSPA, LTE, and 5G. It offers excellent global connectivity, allowing you to stay connected wherever you go. With support for multiple 2G, 3G, 4G, and 5G bands, you can enjoy fast and reliable internet speeds, seamless video streaming, and lag-free online gaming.
2. Aesthetic Appeal: Sleek Design and Display
The Oppo Reno 8 boasts a sleek and elegant design that will turn heads wherever you go. With its glass front, Gorilla Glass 5 protection, and plastic back and frame, the device strikes the perfect balance between style and durability. The 6.4-inch AMOLED display offers vibrant colors, sharp details, and an impressive screen-to-body ratio, providing an immersive visual experience.
3. Performance Powerhouse: Processing and Memory
Equipped with the Mediatek MT6893Z Dimensity 1300 chipset and an octa-core CPU, the Oppo Reno 8 delivers exceptional performance for both everyday tasks and resource-intensive applications. With 8GB or 12GB of RAM and up to 256GB of internal storage (UFS 3.1), you'll have ample space to store your files, apps, and multimedia content.
4. Picture-Perfect Moments: Exceptional Camera System
The Oppo Reno 8 features a triple-camera setup that captures stunning photos and videos in any lighting condition. The 50MP wide-angle lens, combined with multi-directional PDAF technology, ensures crisp and detailed shots, while the 8MP ultrawide lens allows you to capture breathtaking panoramic views. Additionally, the 2MP macro lens lets you explore the microscopic world with incredible clarity.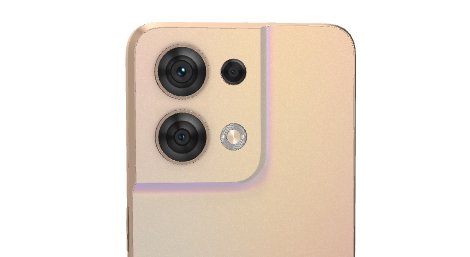 5. Immersive Multimedia Experience: Display and Audio
The 6.4-inch AMOLED display of the Oppo Reno 8 offers a rich and immersive multimedia experience. With a 90Hz refresh rate and up to 800 nits of peak brightness, you can enjoy smooth scrolling, fluid animations, and vibrant visuals. The device also features impressive audio capabilities, with a loudspeaker delivering clear and immersive sound.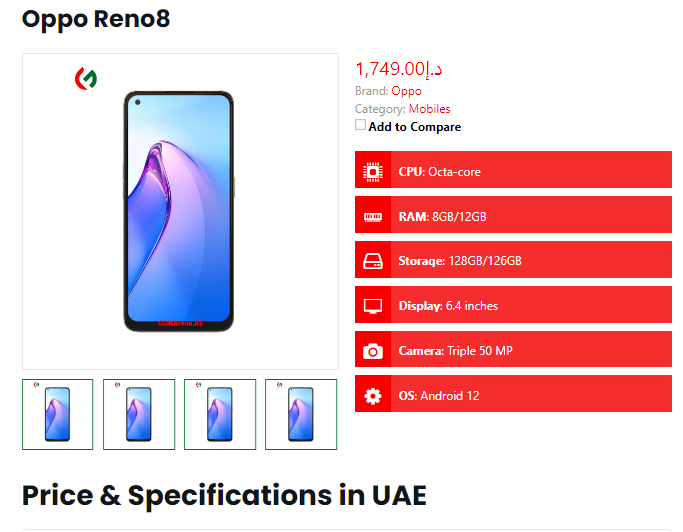 6. Advanced Connectivity: Wireless and Wired Options
The Oppo Reno 8 supports a wide range of connectivity options, including Wi-Fi 6, Bluetooth 5.3, and NFC. You can enjoy fast and stable internet connections, seamless wireless file transfers, and convenient mobile payments. The device also features a USB Type-C 2.0 port with OTG support, allowing you to connect various external devices and accessories.
7. Battery and Charging: All-Day Power and Convenience
With its 4500mAh non-removable battery, the Oppo Reno 8 ensures all-day usage without worrying about running out of power. What's even more impressive is its 80W wired charging capability. With this feature, you can charge your device from 1% to 50% in just 11 minutes, or reach a full charge in only 28 minutes, making it one of the fastest charging smartphones available.
8. Intuitive User Interface: Android 12 and ColorOS 12.1
The Oppo Reno 8 runs on the latest Android 12 operating system, coupled with Oppo's intuitive ColorOS 12.1. This combination offers a seamless and user-friendly interface, with smooth animations, enhanced privacy features, and a wide range of customization options. Navigating through apps, settings, and features is effortless and enjoyable.
9. Advanced Security: Biometrics and Sensors
Keeping your data secure is a priority, and the device offers advanced security features to protect your privacy. The device incorporates an under-display optical fingerprint sensor, ensuring quick and secure access to your device. Additionally, it includes various sensors such as an accelerometer, gyro, proximity sensor, and compass, enhancing the overall user experience.
10. Unique Features: Innovation at Your Fingertips
The smartphone comes with several unique features that set it apart from other smartphones. These include AI-powered enhancements for photography, smart charging algorithms for battery optimization, and software optimizations that enhance the overall performance and user experience.
11. Pricing and Availability: Accessible Luxury
The Oppo Reno 8 offers exceptional value for its price. With its competitive pricing, you can enjoy flagship-level features and performance without breaking the bank. The device is widely available through various online and offline retailers, making it easily accessible for consumers around the world.
12. Customer Reviews: What Users are Saying
Users have praised the Oppo Reno 8 for its stylish design, impressive camera capabilities, and smooth performance. Many have expressed satisfaction with the device's battery life and fast charging capabilities, allowing them to stay connected and productive throughout the day. The device has received positive reviews for its overall user experience, cementing its position as a top choice in the smartphone market.
Conclusion: The Oppo Reno 8 – Your Perfect Companion
In conclusion, the Oppo Reno 8 is a smartphone that offers a winning combination of style, performance, and innovation. With its sleek design, powerful hardware, exceptional camera system, and immersive display, it is a device that caters to the needs and preferences of modern smartphone users. Whether you're a photography enthusiast, a multitasking professional, or a content consumer, the mobile is the perfect companion that will elevate your mobile experience to new heights.
Frequently Asked Questions (FAQ)
Does the Oppo Reno 8 support expandable storage?
No, the Reno 8 does not have a dedicated card slot for expandable storage.
Does the Reno 8 have a headphone jack?
No, the Oppo mobile does not feature a 3.5mm headphone jack.
Is the Oppo Reno 8 water-resistant?
The Oppo mobile does not have an official water-resistance rating.
Does the smartphone support wireless charging?
No, the Reno 8 does not support wireless charging.
What colors are available for the Oppo Reno 8?
The device is available in Shimmer Gold and Shimmer Black colors.