Samsung has discreetly introduced its latest additions to the Galaxy A-series lineup in Malaysia – the Galaxy A05 and Galaxy A05s. These new smartphones boast impressive features, including spacious 6.7-inch displays. The A05 offers an HD+ resolution, while the A05s steps it up with a Full HD+ resolution. Notably, the A05s sports a 13MP front-facing camera nestled within a discreet waterdrop notch, whereas the A05 comes with an 8MP front shooter.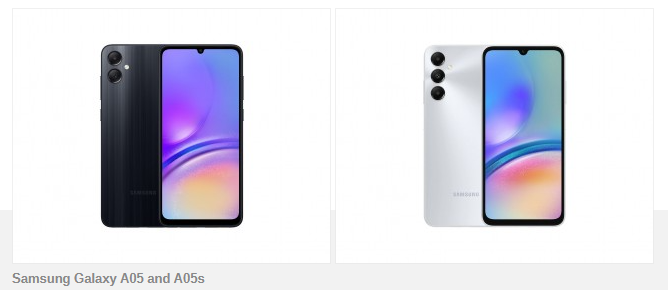 Diverse Chipsets for Different Needs
One of the key distinctions between the two models lies in their chipset choices. The A05s is equipped with the capable Snapdragon 680 chipset, while the A05 relies on MediaTek's Helio G85. Both devices offer a generous 6GB of RAM and ample 128GB of storage, with the option to expand it using a microSD card.
Impressive Camera Setup
In the camera department, both phones share a 50MP main camera with a bright f/1.8 aperture, supplemented by a 2MP depth sensor. However, the A05s goes a step further, adding a 2MP macro shooter to its arsenal, enabling users to capture stunning close-up shots.

Long-lasting Battery and Fast Charging
Samsung has equipped both the Galaxy A05 and A05s with robust 5,000mAh batteries, ensuring extended usage on a single charge. Moreover, both phones support 25W fast charging, allowing you to quickly power up your device when needed.
Latest Software and Stylish Colors
On the software side, both phones run on Samsung's OneUI Core, based on the latest Android 13. This ensures a smooth and up-to-date user experience. The Galaxy A05 is available in Black, Light Green, and Silver colors, while the A05s offers an additional option of Violet.
Pricing and Availability
As of now, Samsung has not yet disclosed the pricing and availability details for these new Galaxy A-series smartphones. However, consumers can expect more information to surface in the coming days. Stay tuned for updates on when and where you can get your hands on these exciting new devices from Samsung.