In a surprising and potentially game-changing move, Xiaomi is gearing up to bid farewell to its long-standing MIUI Android interface and introduce a brand new operating system known as Xiaomi MiOS. This development marks a significant shift for Xiaomi, a company that has been closely associated with MIUI since its inception in 2010. With a global user base exceeding 564 million monthly active users, MIUI has been a staple of Xiaomi smartphones, but it appears the company is ready for a fresh start.
While the details about Xiaomi's MiOS are still shrouded in mystery, reliable sources, including the well-known tipster Digital Chat Station, suggest that Xiaomi is planning a substantial departure from MIUI. It's yet to be confirmed whether MiOS will be merely another Android overlay user interface like MIUI or a completely new mobile operating system developed from the ground up. However, earlier rumors indicate that Xiaomi may be following in the footsteps of Huawei, aiming to launch its own Android Open Source Project (AOSP) based operating system. This new OS is expected to extend beyond smartphones to tablets, wearables, and even Xiaomi's electric vehicles.
To reinforce its commitment to this transformation, Xiaomi has already trademarked the name "MiOS" and secured the mios.cn domain in China. Additionally, reports have surfaced regarding the circulation of a MiOS developer beta within Chinese media circles, hinting at significant progress in the development of this new operating system.
This strategic move by Xiaomi is bound to have far-reaching implications in the smartphone industry. As one of the leading players in the market, Xiaomi's decision to replace MIUI with MiOS underscores the company's determination to chart a new course in the ever-evolving mobile technology landscape. With millions of loyal users worldwide, Xiaomi's transition to MiOS will undoubtedly be closely watched by both consumers and industry insiders alike.
As Xiaomi continues to keep details about MiOS under wraps, speculation is rife about the potential features and innovations it may bring to the table. Whether it's a refined Android overlay or an entirely new operating system, Xiaomi's bold step into the realm of MiOS is poised to reshape the smartphone industry's competitive landscape. Stay tuned for more updates as Xiaomi unveils its vision for the future with MiOS.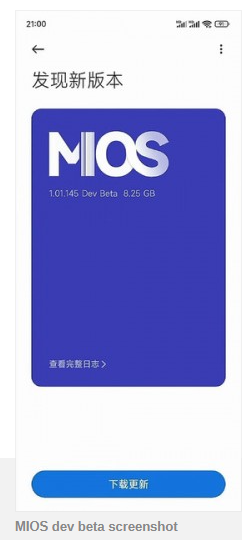 Source (in Chinese)