Gaming enthusiasts, mark your calendars for November 23, as nubia's Red Magic 9 Pro is set to make its grand entrance. In a departure from the industry norm, the smartphone will feature a flat display, eschewing the curved trend that has dominated recent releases. A sneak peek from the teasers also reveals a refreshing absence of camera bumps, indicating a streamlined and sleek design.
The side view image showcases another hallmark of Red Magic flagships – a cooling vent. This feature, integral to the gaming experience, has been a consistent presence in previous generations. The strategic placement of the vent suggests a commitment to optimal performance during intense gaming sessions.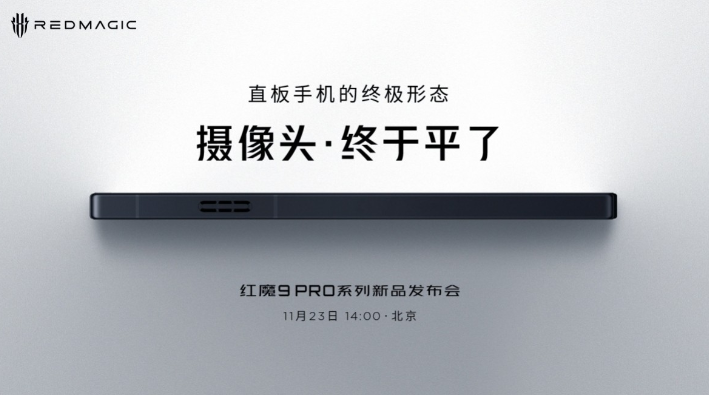 While details about the camera setup remain somewhat shrouded, leaks from reputable sources provide a glimpse into the imaging capabilities. The primary camera is expected to house a formidable 50 MP Samsung GN5 sensor with a substantial 1/1.57" size and Optical Image Stabilization (OIS). Catering to the demands of gaming photography, this setup promises impressive clarity and stability. The ultra-wide camera is anticipated to mirror the Samsung JN1 variant, a 50 MP sensor with a pixel size of 0.64um, previously featured in the Xiaomi 14 and iQOO 12.
As anticipation builds for the Red Magic 9 Pro, the question lingers: will there be a non-Pro version? Drawing parallels with the marketing strategy of its predecessors, the Red Magic 8 and 8S, there is speculation about the possibility of a duo of Pro variants.
In a market saturated with curved displays and prominent camera bumps, the Red Magic 9 Pro aims to carve its niche by offering a flat display, optimal cooling solutions, and a camera setup tailored for gaming enthusiasts. Stay tuned for the official launch on November 23 to witness the latest evolution in the Red Magic series.