Sony has officially rolled out the highly anticipated Android 14 update for its midrange Xperia 10 V, following the successful release on the Xperia 1V. The latest firmware, identified as 68.1.A.2.93, is currently being distributed across Europe and the UK, with additional regions set to join the update wave in the coming weeks.
The Android 14 update introduces a slew of new customization options, enhancing the user experience on the Xperia 10 V. Notable additions include fresh lock screen shortcuts, an expanded font selection, and the integration of Nearby Share with support for Windows 10 PCs. Users can now enjoy greater flexibility in personalizing their devices to suit their preferences seamlessly.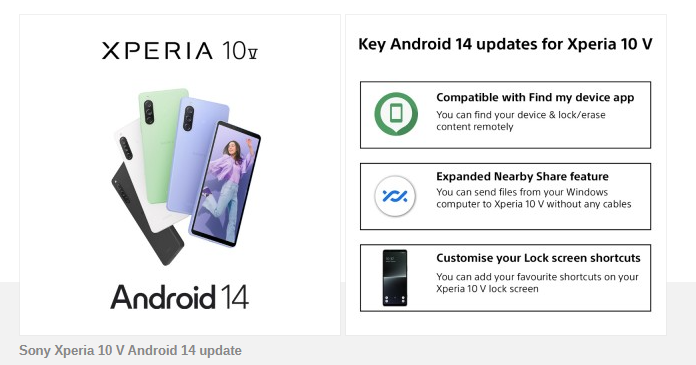 Moreover, this update brings added compatibility with the Find My Device app, enhancing the device tracking capabilities for Xperia 10 V users. This feature aligns with Sony's commitment to providing a comprehensive and secure user experience.
In line with the Android 14 improvements, the Xperia 10 V now benefits from enhanced security and privacy options. Users can expect an upgraded level of protection for their data and privacy, aligning with the latest standards in Android software.
The new battery settings introduced in Android 14 also make their way to the Xperia 10 V through this update, promising improved energy management and optimized performance. Sony aims to ensure that users can make the most of their device's battery life while maintaining a seamless and efficient user experience.
As the 68.1.A.2.93 update continues its rollout, Xperia 5 V users can anticipate a similar Android 14 release in the near future, further expanding the reach of these exciting enhancements across Sony's smartphone lineup.
Stay tuned for the latest updates and enjoy a more personalized, secure, and efficient mobile experience with the Sony Xperia 10 V and Android 14.
Source (post on X.com)